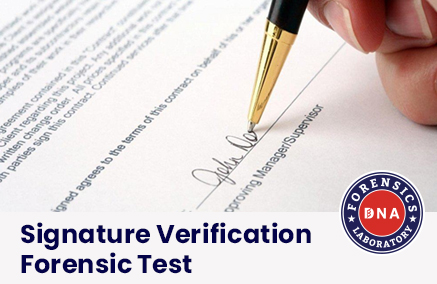 Signatures are unique to every individual, just like their fingerprint. Signatures are widely used means of personal identification and verification of a person. A signature is a symbolic representation of consent to accept the signed document. In the case of a forged signature, a Signature Verification Test can be a life-saver. With the intent of personal, professional, monetary, or other goals, a person may commit forgery by copying someone's signature and using it wrongly. Some common examples of a signature include bank checks, agreements, contracts, and other documents.
Types Of Fraud, A Signature Verification Forensics Test Can Detect
At DNA Forensics Laboratory Pvt. Ltd., we provide various tests to verify authentic signatures and can accurately identify a forged signature. This test is vital in alleged frauds, forgery, cheating, insurance claims, authentication of wills, etc. Using the specialized techniques and the skills of our experts, we can declare a signature as genuine or fraudulent and save you from various unwanted circumstances.
Forgery is a crime. The signature may be valid, but how it was acquired may be fraudulent. We uses the latest and most sophisticated verification techniques to identify and prove the authenticity of signatures and detect signatures forgeries.
Normal False
Usually, in this case, the writer writes the name of another person. Usually, this is not an attempt to copy the signature, and any similarity is fortuitous.
Simulation
The writer usually builds these signatures by practice and skill. They may be similar to authentic signatures. The signature of the model is memorized, and some movements are even practiced to produce it.
Tracing
In such type of forgery, the forger traces the signature by the following techniques:
Transmitted light
Intermediate carbon
Indented pressure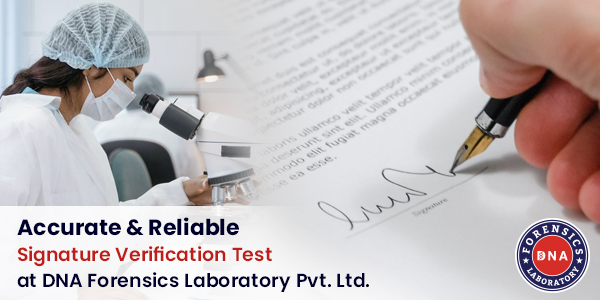 Where to Get the Best Signature Verification Forensics Test in India?
Signature forgery can leave you in unrecoverable losses and attract various litigations and other unwanted situations. At DNA Forensics Laboratory Pvt. Ltd., we provide accurate and reliable forensic investigative tests, including tests to find our forged signatures.
We are the only company to provide Legal DNA Tests in India and have been trusted by the courts of law and various government agencies. Using our services, you can save yourself from various frauds and can protect your personal, professional, and intellectual losses.
You can get an answer to all your questions about and book your Signature Verification Forensics Test in India by talking to our customer service representatives.
For further queries, you can call us at +91 8010177771 or leave a message on our WhatsApp number at +91 9213177771.
Summary
Author Rating





Brand Name
Product Name
Signature Verification Forensics Test