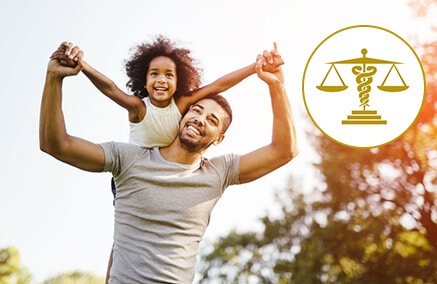 Paternity DNA Test conclusively determines whether an alleged father is the true biological father of a child. It can also be performed with or without the mother. There is no age limitation for taking the DNA Paternity Test. The test can be performed quickly and easily at any age, including newborns. Paternity DNA test can be done for peace of mind or legal cases. DNA Forensics Laboratory Private Limited guarantees greater than 99.9% probability of paternity for inclusions and 100% for exclusions. All tests are processed two times parallel to ensure 100% accuracy.
Legal Paternity DNA test or court-admissible DNA test is conducted under an honorable judge or an authorized person according to government norms. It is used when admissible results are required by the courts, usually in the case of child custody, wills, immigration applications, child support or legal disputes.
Why Legal paternity DNA test is requested?
Helps establishing legal, social and collective benefits, including social security, veterans, and bequest.
Child support, child custody, adoption, birth certificates, immigration test and court decisions.
Provides accurate medical history to the child, providing the health care provider with additional information during diagnosis and health management.
Strengthens the link between biological individuals, such as father and child.
DNA test provides perfect identity and is admissible. We collect the samples from mother, child and alleged father by maintaining chain of custody for providing admissible DNA tests results. The admissibility of the DNA evidence before the court always depends on its accuracy and proper collection method, preservation and documentation which can satisfy the court that the evidence which has been put in front is reliable.
DNA Forensics Laboratory Private Limited conducts all Legal DNA Paternity tests using a premium 22 genetic marker in our State-of-the-Art Accredited testing laboratory and utilizing advanced analyzers. We have over 400 sample collection centers for Paternity DNA Testing in India. Our sample collection method is easy and painless using buccal (mouth) swabs and we provide test results in 3 -5 business days as soon as the samples are received to our testing lab.
Our DNA Paternity test is 100% private and confidential. We would love to talk with you and help you to get the answers that you are looking for.  Contact us or Call us today at: +91 8010177771, WhatsApp: +91 9213177771 or email us to discuss your problems.
Summary
Author Rating





Brand Name
Product Name
Court Approved Paternity DNA Test
Price
Product Availability