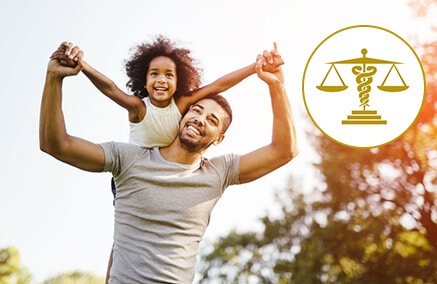 A Legal DNA Paternity Test is conclusive proof of the biological relationship between a child and the alleged father. Generally, a Paternity Test is done for one's peace of mind. Sometimes a DNA test may be required in a legal case. In such a condition, Legal DNA Paternity Test is done.
There is no age limit for a Legal DNA Paternity Test or a regular paternity test, for that matter. Paternity tests can also be performed for newborns, as well as for an unborn child using a Non-Invasive Prenatal Paternity DNA Test. DNA Forensics Laboratory Pvt. Ltd. (DFL) is the only Indian company to offer a legal DNA test in India, including the Legal Paternity DNA test in India. A Legal DNA Paternity Test guarantees 100% accuracy, reliability, and thus admissibility in the court. The report for the court admissible paternity test reveals greater than 99.9% probability of paternity for inclusions and 100% for exclusions.
At DFL, we run each Legal DNA paternity test twice for 100% accuracy, making the Court admissible paternity test reliable.
Legal Paternity DNA Test or court-admissible DNA test is conducted in the presence of the hearing judge or a court-authorized person according to the norms of a Legal DNA Test.

Uses of Legal Paternity Test in India
It serves as reliable evidence of paternal relationship among a child or adult and the alleged father, necessary in certain legal matters.

Necessary for and assists greatly in child custody, adoption, child support, birth certificates, immigration test, and court decisions.

Strengthens the link between the father and the child.
A Legal DNA paternity test provides perfect identity and is admissible by the courts. The admissibility of a court admissible paternity test depends on proper collection, preservation, and documentation, which can satisfy the court that the evidence (the result of the Legal paternity test) is reliable. Following proper Chain-of-Custody, we collect the samples of the child and the alleged father, and the mother for providing admissible results in a Legal Paternity DNA Test case.

At DFL, we conduct every Legal DNA paternity test using a premium 22 genetic marker in our State-of-the-Art NABL-accredited testing laboratory and utilizing advanced analyzers. We are operating from 400+ sample collection centers for our DNA Tests.

Our sample collection method is easy and painless, and we provide the test results for a Legal DNA Paternity Test in 3 -5 business days after we have received your DNA sample at our testing lab.
Every Court Admissible Paternity Test at DFL remains 100% confidential and intact.
To know more about a Legal Paternity DNA Test in India, contact our customer service representative on  +91 8010177771 or WhatsApp on +91 9213177771
Summary
Author Rating





Brand Name
Product Name
Court Approved Paternity DNA Test
Price
Product Availability