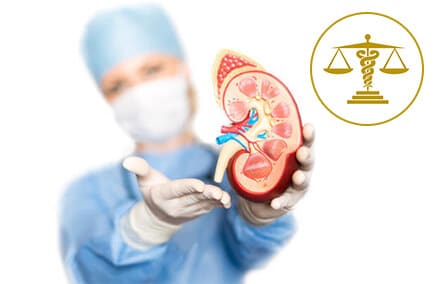 A kidney transplant is a surgical procedure that involves inserting a healthy kidney into someone with kidney failure. Kidney transplant is one of the most common transplant operations in India.
The given kidney can come from: –
A living donor who is a family member – the donor is related to the person receiving the kidney, such as a parent, sibling or child.
A living donor who is not a family member – for example a friend or the spouse of the person receiving the kidney transplant
A deceased donor – a recently deceased person with no known chronic kidney disease.
The DNA test becomes an important tool for establishing the biological relationship between the living donor and the recipient. A living donation occurs when a healthy person donates a kidney or part of the liver, lung, intestine, pancreas, bone marrow or blood to another person.
DNA Forensics Laboratory Pvt. Ltd. is providing its services to many prestigious hospitals including  AIIMS (New Delhi), Fortis, Apollo hospital, Manipal, Global hospital, Fertmax, Max Healthcare, Sakra, Aster CMI and many more to avoid fraud and involvement of any transplant rackets. As per TRANSPLANTATION OF HUMAN ORGANS ACT (THOA), FORM 5 it is mandatory to discover the relationship between a living donor and a recipient should be based on STR profiling. This has to be issued by the laboratory where DNA profiling is done and laboratory must be NABL certified. Without Form 5, the approval committee for live donor and organ transplant may not accept the application and consider it as incomplete.
The DNA test plays a crucial role in proving a biological relationship and may be possible through STR, YSTR and mtDNA-based DNA testing. Various DNA profiling tests are performed according to the relationship claimed by the recipient and the donor, such as paternity DNA test, maternity DNA test, siblings DNA test, Y-STR analysis (parent on the paternal side), mtDNA (Maternal side relative)  analysis and kinship DNA test. DNA test is performed in accordance with the reference to Rule 2 by an NABL accredited laboratory. The certificate must be given in FORM 5 along with the DNA test report.
Different DNA profiling test can be performed based on the donor and recipient's claimed relationship.
Paternity DNA test
Maternity DNA test
Siblingship DNA test
YSTR analysis (Paternal side relative DNA test)
Mitochondrial DNA (mtDNA) test (Maternal side relative DNA test)
Kinship DNA test- other relationship based on autosomal markers
For further queries about  Kidney and Organ transplant DNA test, please contact us or you may schedule an appointment with us by Contact us or calling our helpline number: +91 8010177771 or whatsapp us at: +91 9213177771 and our customer representatives will be happy to help you at every step of DNA test procedure.
Summary
Author Rating





Brand Name
Product Name
Kidney and Organ transplant DNA test