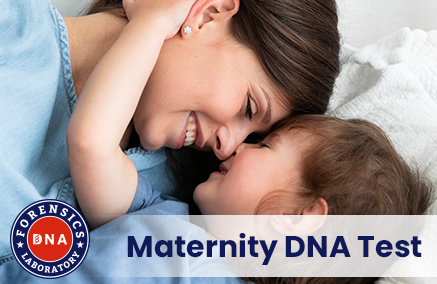 Getting a Maternity DNA Test in India is easier now. It helps establish the biological relationship between a child or adult and the alleged mother. DNA Maternity Test in India is the most reliable and often the only method of establishing a maternal relationship. As each individual receives half of his or her DNA from both parents, the biological (genetic) relationship between the mother and the child can be determined precisely.
Getting a DNA test has become easier with the commercialization of DNA diagnostics procedures. The same is true with maternity DNA testing. However, the POM or Peace of Mind Maternity DNA Test isn't the only configuration. People who want a resolution of a legal matter related to child custody, adoption, and other marital and property/will disputes can also get a Legal Maternity DNA Test in India. Whatever be the needs of the customer, we provide highly accurate and reliable Maternity testing and other POM and legal DNA Tests in India at competitive pricing.
Peace Of Mind Vs. Legal Maternity DNA Test
A DNA Maternity Test In India is mostly done for peace of mind, that is, for one's own information. In such cases, the report may or may not be admissible in a legal matter.
On the other hand, a court-approved/Legal DNA Maternity Test in India is ideal for a legal matter. The confidentiality of the test is an absolute must. Therefore, we keep our client's personal and test details completely confidential.
Unlike Peace of Mind tests, for a Legal Test in India, the sample is collected in front of the hearing judge or in the presence of a court-appointed representative. The test report is also sent directly to the judge for admissibility of the test report.
What are the Uses of a DNA Maternity Test In India?
Maternity Testing Finds a Number of Applications, like:
Establishing motherhood (maternal relationship)
Child custody
Immigration
Organ Transplant
Court-ordered test for parental conflict
Swapped Baby identification
Prove an adoptee's relationship with the biological mother
In-vitro Fertilization (IVF)
You can directly book a Maternity DNA Test from the website or call our representatives for the same.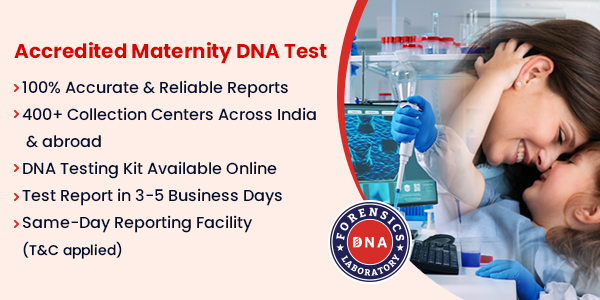 Sample Collection
Our sample collection process is painless, easy, and available all over India. You can visit one of our 400+ collection centers present in most of the major Indian cities and easily give your sample for the Maternity DNA Test in India.
Alternatively, you can book your test and opt for a home collection, in which we send one of our agents to take your sample from your address, like home, office, etc.
Buy DNA Test Kit Online
If you want to take your and the child's samples yourself, you can do that yourself. All you have to do is buy our DNA Test Kit online and follow the instructions to take the DNA samples in a few easy steps.
Once the sample is collected, you have to pack it and send us back. After your samples are received, we run the tests, and you receive your report within a few business days.
Why DNA Forensics Laboratory for a DNA Maternity Test In India?
Our testing facility is accredited by NABL -the National Accreditation Board for Testing and Calibration Laboratories. We practice and maintain the highest standards for our DNA testing services. We are committed to providing the fastest and 100% accurate Maternity DNA Test at the best prices to our clients. Besides the quality and accuracy of the tests, our client's confidentiality is among our topmost priorities.
We provide NABL-accredited Organ Transplant DNA tests in India along with Form-5 (as per the Transplantation of Human Organs Act (THOA), 2014).
You can visit one of our collection centers in India to give your DNA sample for the test.
Rigorously trained and expert professionals carry out the sample collection. Once in our testing facility, the DNA samples are handled with utmost care under ideal conditions, following which the technical staff carries out the DNA Maternity Test.
DNA Forensics Laboratory Pvt. Ltd. is also trusted by the Indian Courts and is the only company to do Legal DNA Tests in India, including a Legal Maternity DNA Test in India.
Here, we also boast our fastest report delivery service. We provide the report of a DNA test in 3-5 working days; however, using our express services, you can get your test report even on the same day (T&C applied).
For more information or to book an appointment, call us at +91 8010177771, or leave a message on WhatsApp at +91 9213177771.
Summary
Author Rating





Brand Name
Product Name
Price
Product Availability