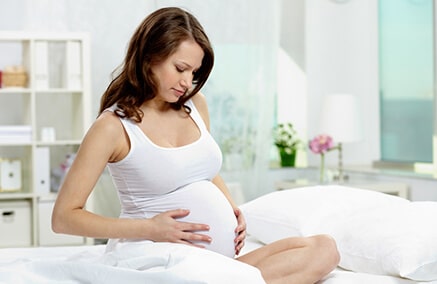 DNA Forensic Laboratory Private Limited offers a prenatal paternity DNA test 100% safe during the beginning of pregnancy. No need for complicated and risky extraction procedures like amniocentesis. Your results will be delivered in just 9 to 10 business days with an accuracy of 99.9%.
Non-invasive prenatal paternity DNA test is unique and is usually done for individuals and families who cannot or do not want to wait until the child is born or who do not wish to undergo invasive and often dangerous procedures, such as amniocentesis or the removal of chorionic villi.
The prenatal DNA paternity test cannot be performed if the mother has multiples (twins, triplets, etc.). In these cases, a postnatal DNA paternity test should be considered.
The Test can be done as early as at 9 weeks from gestation and cut short the 9 months you have waited to find out the paternity of your child. The non-invasive prenatal paternity test is performed by taking a DNA sample from the cheeks of each presumed father using a sterile oral swab and a maternal blood sample.
Benefits of our Non Invasive Prenatal Paternity DNA test:
As the prenatal paternity test analyzes cell-free fetal DNA in the maternal blood, there is no risk of misdiagnosis or incorrect results due to previous pregnancies or miscarriages. It also means that the test is much more accurate and reliable than other non-invasive tests using nucleated fetal cells (whole cell-embedded DNA).
The prenatal test is 100% safe. The test analyzes cell-free fetal DNA found in the mother's blood (which is collected with a simple blood sample). Other methods of prenatal paternity testing such as chorionic villous sampling are invasive and involve risks such as miscarriage, amniotic fluid leakage, or injury to the baby's limbs.
Compared to other methods of sampling, this prenatal paternity test takes less time and simple to perform. The medical costs of taking invasive samples, such as amniocentesis, can be very expensive and take longer to organize and conclude.
This highly scientific test does not require the assistance of a specialist OB / GYN (obstetrician-gynecologist). Amniocentesis and CVS are medical interventions that require the assistance of a specialist and are of high risk that our test completely eliminates.
DNA Forensic Laboratory Private Limited provides the only test available to reliably determine paternity from a maternal blood sample in the first trimester of pregnancy. Knowing the exact period of pregnancy, it is sufficient to collect the blood of the pregnant woman and her presumed father – the rest of the analysis is supported by our experts.
Only at DNA Forensics Laboratory Private Limited, we provide the ability to run each paternity test twice for maximum accuracy confirmation. Our testing laboratory analyzes and extracts more than 2688 DNA sequences from the SNP, which we technically call single nucleotide polymorphisms. Results are available within 9 – 10 business days. Here we provide the most affordable pricing and payment methods for the test and the test is absolutely risk free. We analyze the cell-free fetal DNA found in the mother's blood sample by a simple blood test. Current methods of sampling antenatal paternity tests, such as amniocentesis and chorionic villus sampling (CVS), are invasive and carry a risk of miscarriage or harm to the unborn child.
The prenatal DNA paternity test has many emotions. Most people and families looking for a prenatal paternity test do so for difficult and sometimes embarrassing reasons. We understand and want to do everything in our power to make the whole process fast, easy and as unobtrusive as possible. If you have questions before, during or after your test, or at any other stage of your journey, please let us know by Contact us or calling us at: +91 8010177771 or whatsapp: +91 9213177771 and get your queries answered at ease. We will be happy to help you.
Summary
Author Rating





Brand Name
Product Name
Non-invasive Prenatal Paternity Test
Price
Product Availability