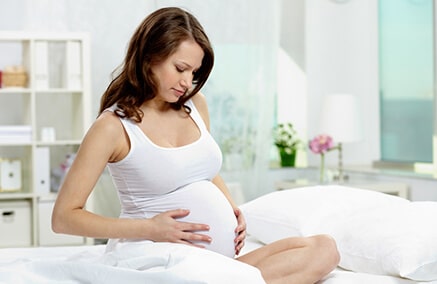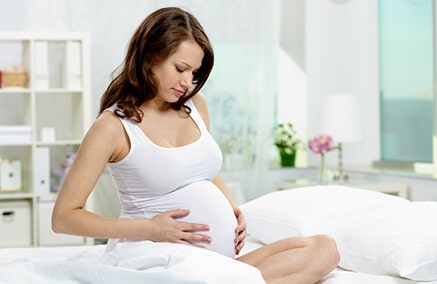 DNA Forensic Laboratory Pvt. Ltd. offers a Non Invasive Prenatal Paternity DNA Test while pregnant woman is still expecting the baby. Getting a DNA Test While Pregnant may sound intimidating, but it is 100% safe for the unborn baby as well as the mother. Due to its non-invasive nature, this test doesn't involve drawing out amniotic fluid with syringes, unlike in the case of amniocentesis. The latter used to possess a high risk of miscarriages or health complications for the mother, but a Non Invasive Prenatal paternity DNA Test is completely safe for the fetus (unborn baby) and the mother getting the DNA test while Pregnant.
The results of a Prenatal Paternity Test are delivered in 9 to 10 working days. The accuracy of a Non Invasive Prenatal Paternity DNA Test is the same as the regular Paternity DNA Test. 

* It is worth mentioning and important to note at the reader's end that a Prenatal Paternity Test is never used for Prenatal Sex Determination of the unborn baby. It is a punishable offense by law.
A Prenatal Paternity Test is unique and is usually done for individuals and families who cannot or do not want to wait until the child. It is also undoubtedly the safest way of prenatal paternity testing. Hence people, who want to save themselves from the risks of amniocentesis, may find a Non Invasive Prenatal Paternity DNA Test to be the ideal choice.
The Prenatal Paternity Test cannot be performed if the mother has multiples (twins, triplets, etc.). In these cases, a postnatal DNA paternity test should be considered.
Getting a Prenatal Paternity DNA Test While Pregnant is safe and permissible for 9 weeks or older gestation (pregnancy). The Non-invasive Prenatal Paternity DNA Test is performed by taking a DNA sample from the cheeks of the alleged father using a sterile buccal swab and a blood sample of the mother.

Benefits of a Non Invasive Prenatal Paternity DNA Test:
A Prenatal paternity test analyzes cell-free DNA of the fetus found in the maternal blood. Therefore, it is of misdiagnosis or incorrect results due to previous pregnancies or miscarriages. It also means that the test is much more accurate and reliable than other non-invasive tests using nucleated fetal cells (whole cell-embedded DNA).

The prenatal test is 

100% safe

. The test analyzes cell-free fetal DNA found in the mother's blood (which is collected with a simple blood sample). Other prenatal paternity testing methods, such as chorionic villus sampling, are invasive and involve risks such as miscarriage, amniotic fluid leakage, or injury to the baby's limbs.

Compared to other methods of sampling, this prenatal paternity test takes less time and simple to perform. The costs of taking invasive samples, such as amniocentesis, can be very expensive and take longer to organize and conclude.

Amniocentesis and CVS are medical interventions that require the assistance of a specialist and are of high risk that our test completely eliminates. A

Non Invasive Prenatal Paternity DNA Test

does not require the assistance of a specialist OB/GYN (obstetrician-gynecologist).
We are one of the best labs to offer an accurate and reliable Non Invasive Prenatal Paternity DNA Test while pregnant woman is still expecting the baby. Highly qualified technical staff carries out each Prenatal Paternity Test twice for 100% accuracy.

We analyze more than 2688 DNA sequences from the SNP (Single Nucleotide Polymorphisms). Easy availability and quick reports are crucial for a Non Invasive Prenatal Paternity DNA Test while pregnant woman is filled with mixed feelings of joy and anticipation. At DNA Forensics Laboratory, we make a Prenatal Paternity Test a pleasant experience with our class-leading service and faster report delivery in as short as 9-10 business days. 

At times, a need may arise for a Paternity DNA Test while pregnant mother or the alleged father (or both) may want to confirm the paternity of the unborn child. DNA Forensics Laboratory provides you just the best solution for such times. Getting a Non Invasive Prenatal DNA Test while pregnant is easy and 100% safe.

If you have queries regarding a Non Invasive Prenatal Paternity DNA Test and want to book a DNA Test while Pregnant talk to our customer service representatives on the following numbers:
Call: +91 8010177771
Whatsapp: +91 9213177771
Summary
Author Rating





Brand Name
Product Name
Non-invasive Prenatal Paternity Test
Price
Product Availability