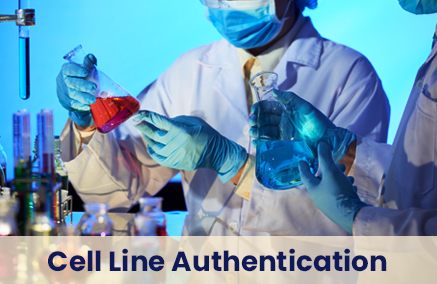 A Cell Line Authentication test is a crucial research tool. It has extensive applications in drug discovery, vaccine development, genetics, cell biology, reconstructive drugs, screening & toxicity testing, etc. With the DNA testing technology evolving continuously, getting a DNA test for various purposes has become easier than ever, including a Cell Line Authentication Test in India.
At DNA Forensics laboratory Pvt. Ltd., we are providing 100% accurate and dependable Cell Line Authentication DNA tests at competitive prices.
What is the Need for a Cell Line Authentication Test?
Cells are the structural and functional units of life. In biological and genetic studies and various other purposes, using the right cell lines is vital. Unfortunately, the cells are prone to biological and environmental degradation and alterations.
There are three major ways the cell lines of interest undergo such changes, namely-
Misidentification
Genetic Drifting
Cross-Contamination
Misidentification- It's the most common problem in compromising the identity of the cell lines. In this, the cell lines are misidentified at the source. It means that at the collection, a wrong cell line was collected.
Genetic Drifting- Over time, cell lines may completely lose their identity and may drift (genetically) into a different type of cell, affecting the test/research and the final results.
Cross-Contamination- While stored or while being used, cell lines may get contaminated with another cell, microbes, environmental pollutants, etc.
Should these problems exist, they can cause huge wastage of time and money. To avoid these problems, a Cell Line Authentication Test is done.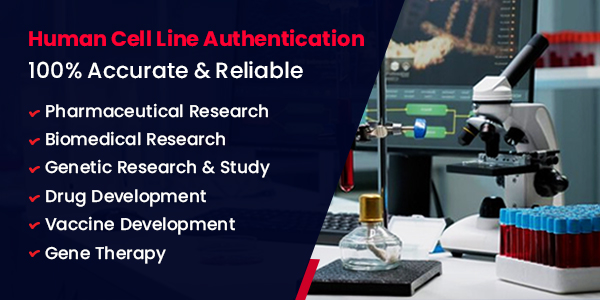 Method of a Cell Line Authentication DNA Test
STR profiling is used for a Cell Line Authentication Test in India. STRs or Short Tandem Repeats are polymorphic repetitive sequences on the human genome. Cell Line Authentication Test analyses STRs using a standard 8 STR loci (minimum).
The steps involved in a Cell Line Authentication Test are as follows:
Sample collection (the cells from the cell line under investigation)
DNA extraction from the cells
Analysis of the DNA's STR regions having polymorphism (Short Tandem Repeats).
PCR amplification of the polymorphic sites
Capillary Electrophoresis of the PCR products
Profile creation of the repeating regions.

The whole process of the Cell Line Authentication Test in India can be summed up as under:

STR genotyping (profiling) of the cell line of interest.
Comparing the resultant profile with the reference database.
Finding percent match in the cell lines and using the Match Formulation technique to check for cross-contamination in the cell line.
Finally, listing the misidentified cell line of interest.

DNA Forensics Laboratory for Cell Line Authentication Test

Getting a Cell Line Authentication Test in India can be a crucial decision to make, provided the significance and sensitivity of a project/research. We are a NABL accredited laboratory providing accredited

DNA Testing services

, including a

Cell Line Authentication Test in India

at reasonable prices.

 

DNA Forensics Laboratory (DFL) uses standardized techniques for a cell line authentication test. It includes detecting the misidentified, genetically drifted, or cross-contaminated cells that invalidate research results. For the analysis, we use an exclusive model to generate repeated DNA for each human cell line so that each new DNA profile stock is checked against the base profile. We are among the most trusted DNA Testing companies for Cell Line Authentication Tests in India. Our clients are various esteemed research institutes, pharmaceutical companies, and biotechnology companies.

What Makes Us Best for Cell Line Authentication Test in India?

At DNA Forensics Laboratory Pvt. Ltd., we have been successfully providing Cell Line Authentication Tests in India for years.

We carry out the Cell Line Authentication (or any other DNA test) at our state-of-the-art facility, equipped with the latest machinery and the latest and industry-standard methodologies for 100% authentic and reliable results.

 

We have the fastest turnaround times, providing the report of the Cell Line Authentication Test within 3-5 days.

 

We also offer sample collection at the site/address of our clients. We are the only DNA testing company in India for a Legal DNA test in India for the courts of law.

Learn more or book a Cell Line Authentication Test in India by talking to our customer service representatives on the numbers Call: (+91) 8010177771 or WhatsApp: + 91 9213177771
Summary
Author Rating





Brand Name
Product Name