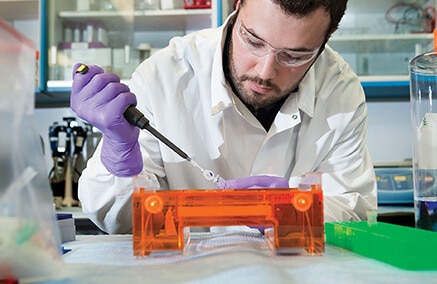 Cell line authentication is an important research tool used in a variety of areas such as medicine, genetics, vaccine development, cell biology, drug discovery, reconstructive drugs, screening and toxicity testing. Many methods have been used to identify cross-contamination in cell culture, such as isozyme analysis, karyotyping, human lymphocyte antigen (HLA) typing, and amplified fragment length polymorphism characterization (AFLP).
DNA Forensics Laboratory use standardized techniques for cell line authentication which detect misidentified, genetically drifted or cross-contaminated cells that invalidate research results. For the analysis, we use an exclusive model to generate repeated DNA for each human cell line, so that each new DNA profile stock is checked against the base profile.
Our main clients are research institutes, pharmaceutical companies and biotechnology companies. The typing of STR DNA generates reproducible data in accordance with the guidelines defined by the main scientific organizations. We generate a STR profile by multiplex PCR followed by capillary electrophoresis in a genetic analyzer and the data obtained is then analyzed by the GMIDX software.
Our facility makes STR profiling of human cell lines fast, easy and reliable, while offering the best methods of cell line discrimination and identity confirmation, detection of cross-contamination of cells and mis-identification of cells.
When in doubt about the state of your cell lines contact us at: +91 8010177771 or WhatsApp: + 91 9213177771 and our executives will suggest the best methods for cell line authentication that is appropriate for your needs.
Summary
Author Rating





Brand Name
Product Name