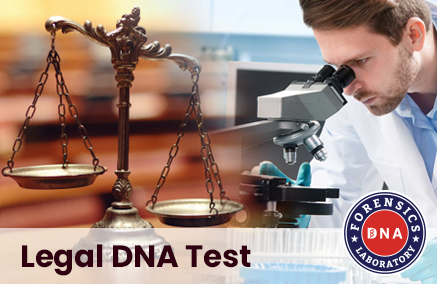 A DNA test is often the only authentic and reliable method of biological identification of an individual, establishing biological relationships, and identification of a criminal. DNA tests are done mostly for peace of mind. However, there are cases when a DNA test may be intended for legal use. Legal DNA Tests in India have been used extensively for marital and property disputes, legal guardianship of a child, inheritance of property or will, and several other cases.
Legal DNA Tests in India are often called court-admissible DNA tests or court-approved DNA Tests. At DNA Forensics Laboratory (DFL), we are the only private company providing Legal DNA Tests in India for honorable courts of law.
What are the Processes Involved in Legal DNA Tests in India?
The first step while going for a Legal DNA Test in India is the sample collection.
Unlike a peace of mind DNA test, Legal DNA Tests in India require sample collection under a chain of custody. First of all, the judge hearing your case will order the district or state forensic laboratory for the DNA test, but if you want to get the DNA test from an accredited private lab, you have to request the same from the hearing judge.
On the assigned date, the lab visits the courtroom and takes the samples of the involved parties in front of the hearing judge. In many cases, the judge may appoint a court representative under whose supervision the sample collection will take place.
In Legal DNA Tests in India, the tested parties do not get the test report. Instead, the report is directly sent to the hearing judge. This is so done for the discretion of the test reports.
Methodology
The methodology behind Legal DNA tests in India is the same as a peace of mind relationship DNA test – the STR Profiling.
In STR profiling, the long strand DNA molecule is broken down into smaller fragments of repeating base-pair sequences. After amplification (using Polymerase Chain Reaction), the individual DNA profiles of the tested parties are generated and compared.
If the resultant profiles are a 99.9 % match, the biological relationship is established. If it's a 0% match, the relationship is not established.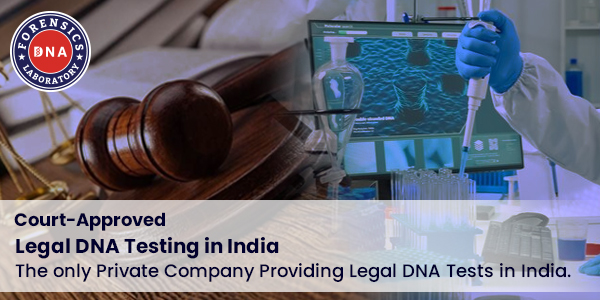 Why DNA Forensics Laboratory For Legal DNA Tests in India?
There are many labs offering peace of mind DNA tests in India, but DNA Forensics Laboratory Pvt. Ltd. is the only Indian company providing Legal DNA Tests in India.
Due to the accuracy and precision of a DNA test, courts rely largely on them for certain cases mentioned earlier. We have been continuously providing our services to honorable courts of India and have helped solve hundreds of disputes pending in the courts.
We have the fastest turnaround times, releasing the test reports in around 4-5 days. As far as the district or state forensic laboratories are concerned, you may get an appointment even your sample collection after long waiting periods due to a large number of pending cases. It can range from weeks to months.
At DFL, we maintain the highest degree of ethical codes and keep your personal and test-details highly confidential, so you can rest assured about the accuracy and dependability of your test report.
We offer the following types of Legal DNA Tests in India, as per your case:
If you are looking for Legal DNA Tests in India, DNA Forensics Laboratory Pvt. Ltd. is the answer for you. We are NABL certified and the only company to provide Legal DNA Tests in India.
Reach us via +91 8010177771 or WhatsApp on +91 9213177771 to learn more or book any of the Legal DNA tests in India according to your case.