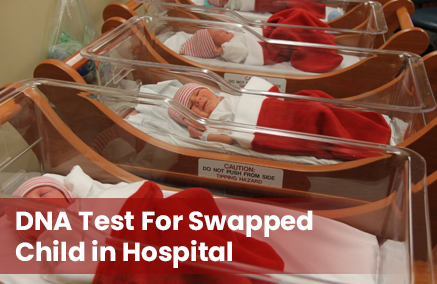 Parenthood is a beautiful experience for a couple. It's a happy time for the families, who just welcomed their new member into the world, but sadly, sometimes babies are swapped at birth. Baby Swap incidences are prevalent today and are quite common news we come up with every now and then. A DNA Test for Child Swap cases can help unite the parents with their biological child and bring their joy back.
If you are doubtful about the identity of your newborn, you should get a DNA Test For Baby Swap In Hospitals. At DNA Forensics Laboratory (DFL), we provide accurate and reliable DNA Test Child Swap In Hospitals.
What's The Need for a Child Swap DNA Test?
Most of the time, suspects are the families and/or the hospital staff. Hospitals/maternity centers are trying their level best to stop this evil. But, somehow, people are still able to get away with this inhumane act. The good news is that a Baby Swap DNA Test can help accurately identify the couple's biological child and help them reunite.
A Baby Swap DNA Test chiefly constitutes testing the alleged mother's DNA and matching them with the swapped baby's DNA test results. Once the tests show a match, the maternity is established, and the real child's custody is given to the biological parents.
Many times, the child swap cases in the hospitals are due to the hospital staff's negligence. When in doubt, the parents can always go for a DNA Test for Child Swap in Hospitals and quickly identify their biological child.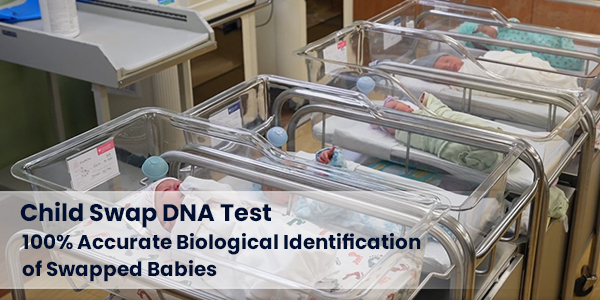 How Does a Child Swap DNA Test Work?
A child receives half of its DNA from either parent. Now, with the introduction of Baby Swap DNA testing, it has become very easy to determine the true parents of the newborn child. For a Baby Swap DNA Test, the STR Profiling method is used.
Methodology
The baby's and the mother's DNA samples are collected separately. Following the sample collection, the DNAs are studied separately using the STR profiling method.
STR Profiling
The long-chain DNA molecules have 3 billion base pairs arranged in a specific sequence. For ease of study, the DNA molecule/strand is cut into smaller fragments using specialized reagents and techniques in the lab.
These short fragments are called Short Tandem Repeats or STRs in short.
Then multiple copies of the STRs are made using the amplification process. This process is carried out using PCR or Polymerase Chain Reaction.
In the end, capillary electrophoresis is done to yield the characteristic DNA profile of each.
The two DNA Profiles are then matched to check for any resemblance. If it's a 99.99% inclusion (match), the baby is the biological child, and if there is a 0% inclusion (100% inclusion) or a mismatch, it means the child is not the biological child.
DNA Testing is a foolproof method of biological identification of an individual, as well as establishing a biological relationship between two or more individuals. With the help of a DNA Test for Baby Swap in Hospitals, couples can now break free from worries and have complete peace of mind.
What Can Hospitals/Maternity Centers do to Avoid Baby Swaps in Hospitals?
The hospital authorities must put in place a transparent system to monitor such practices. Implementing strict measures to avoid Child Swap incidents should also be a role of the hospitals/maternity centers. If there is doubt/dispute in the baby swap case, the parents should have a clear message to obtain a DNA Test for Child Swap. Again, those who have been forced into this type of situation by others' ill intentions will benefit from it.
How Can DNA Forensics Laboratory Help?
If you or anyone in your contacts is undergoing such a traumatic incident or expecting a baby, a DNA test for Child Swap in Hospitals can save them from troubles and parting from their babies. We are providing accredited Baby Swap DNA Tests all over India.
If you are an expecting couple, you can contact us to book a Child Swap DNA Test in advance soon after the baby is born. Our customer service representatives will help you with all types of information about a DNA Test for Child Swaps in Hospitals.
For any queries or to book a Child Swap DNA test in India, contact us at +91 8010177771 or WhatsApp us at +91 9213177771.
Summary
Author Rating





Brand Name
Product Name
DNA Test for Child Swap in Hospitals
Price
Product Availability