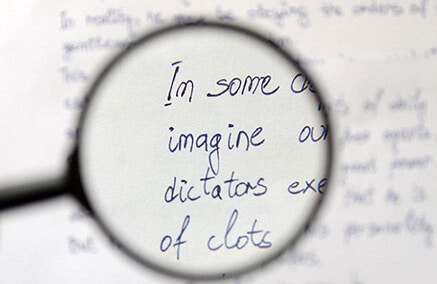 DNA Forensics Laboratory Private Limited has helped thousands of people with document verification. We check all types of documents that can protect you and your organization. DNA Forensics Laboratory provides verification of documents by forensic experts.
We provide the information you can count on. We reviewed thousands of documents, including employee documents, passports, agreements, licenses, identity cards, scenic maps, and other documents to verify authenticity.
We have successfully completed numerous employee audits. This also includes checking the employee's documents.
We have a team of experts who review each document. The different stages of this process guarantee the authenticity of the document. Documents play an important role in any process. You must make sure that these are not forged.
We compare each record with the corresponding record of the issuing body. These services are very useful for organizations seeking to prevent the registration of customers or employees who may use fraudulent documents.
Documents that need verification are-
Birth certificate
Citizenship documents
License
Medical cards
Passports
Visas
Adhaar cards
Marriage certificates
Change of names
Contracts
Sale deeds
Money receipts
Property documents
Receipts
Documents may be searched for evidence of alterations, cancellations, deletions, and page substitutions. Document verification gives you greater confidence in decision-making. Once the documents are verified, you have a clearer picture and can take a step ahead. DNA Forensics provides you with tailored solutions and saves you time and cost-effective services.
DNA Forensics Laboratory Pvt. Ltd is not a database. We respect the privacy of all and do not keep any personal information once the check is completed. The documents are checked against the records of the issuing body.
We check all documents using the latest techniques and principles. Our other services, such as signature verification, certificate verification, and photo verification, contribute to this service. Many diplomas and certificates include stamps, holograms, or watermarks.
For any further communications contact us or call our customer representatives at +91 8010177771 or you may schedule an appointment with us by WhatsApp at +91 9213177771.
Summary
Author Rating





Brand Name
Product Name
Document Examination Forensics Test