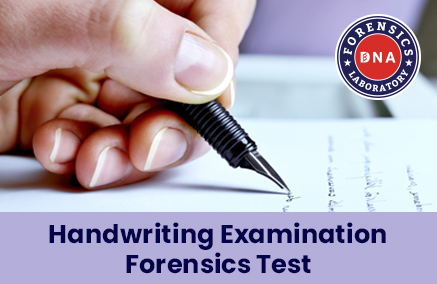 The handwriting of an individual is a unique characteristic of that person. This makes a Handwriting Examination Forensics Test able to point our manipulations or forgery in any document or written note, etc. Handwriting analysts admit that some people may have some identical writing characteristics but that the probability of having more than that is impossible. The similarity in handwriting would be due to the style of characters we learned over the years. Hence we may not be able to distinguish between actual handwriting by a person and copied handwriting. At DNA Forensics Laboratory, our experts can precisely differentiate two handwritings using a Handwriting Examination Forensics Test.
Significance of Handwriting Examination Forensics Test
A forensic document examiner can play an important role in helping to resolve disputes or crimes by reviewing editorial evidence. The handwriting examination generally involves comparing known specimens to editorial evidence found on a disputed document. Our document reviewers can advise you on the relevance of the handwriting review for your case and have the expertise to assist you in your case.
In a typical case, detailed microscopic and general comparative examinations are made of a set of samples whose writing is known to have been written by a person whose writing is under question and the writer of which is unknown or doubtful.
Questions about handwriting are often asked with graffiti, anonymous letters, journal entries, medical records, checks, statements, and application forms.
Applications of a Handwriting Examination Forensics Test
DNA Forensics Laboratory Pvt. Ltd. offers an accurate and reliable Handwriting Examination Forensics Test at affordable prices. A Handwriting Examination Forensics Test can be specialized and done in the following configurations:
Handwriting Analysis

Signature Analysis

Document Analysis

Stamp Analysis

Loan Application Analysis

Cheque Analysis

Forged Document Analysis

Will Analysis

Legal Document Analysis

Counterfeiting

Suicide Note Analysis

Extortion Notes Analysis

Contested Documents

Edited Documents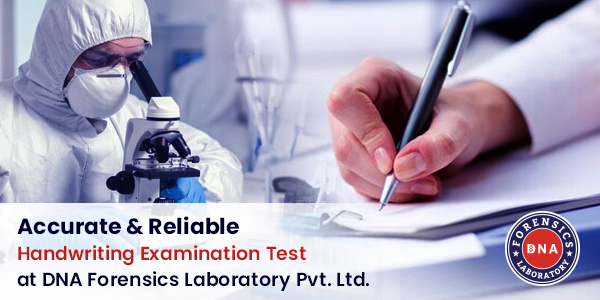 At DNA Forensics Laboratory (DFL), we are committed to helping you with the help of a signature and Handwriting Examination Forensics Test.
These questionable documents are called "challenged documents". Our experts can even point out the invisible marks on the document using sophisticated Handwriting Examination Forensics Test techniques. It can help solve frauds and forgeries.
There is no doubt that things have become easy in this digital age, but it has also become easier for criminals to manipulate and create fraudulent documents.
DFL helps you find out if the document is authentic or not. Our Handwriting Examination Forensics Test services can also provide you with information like the creator of the document, the time frame, the material used, and the changes made. The stamp, the ink, or the tools used can serve as a guide to get hold of the criminal. Our experts can also identify marks invisible to the naked eye. Fine motor skills can affect writing, and our experts can identify the author's state of mind.
So the next time you are doubtful about the authorship of a will or an anonymous note, feel free to call us at +91 8010177771 or WhatsApp on +91 9213177771.
You can also book a Handwriting Examination Forensics Test at DFL by talking to our representatives.
Summary
Author Rating





Brand Name
Product Name
Handwriting Examination Forensics Test